Members of RoosterTeeth—a production, live-action, and animation studio—made a rare UK appearance at MCM London Comic Con. Every single seat was filled with fans eager to meet the creative minds of Miles Luna, writer/director of Red vs. Blue and RWBY, and Kerry Shawcross, co-writer/co-director of RWBY.
RoosterTeeth are one of the most popular entertainment studios on YouTube, with over 7.8 million subscribers and dozens of side-shows to enjoy ranging from gamer debates, entertainment news, major league e-sports discussions, and podcasts dedicated to film and TV and so much more.
The company started with voice-over-enhanced gameplay videos of Halo: Combat Evolved, founded by Burnie Burns. These eventually led to the creation of Red vs. Blue, a comedy science fiction series that premiered in April 2003 and earlier this year released its twelfth season. Live-action shorts to fully animated productions are also the studio's focus, such as their original show RWBY, an action-fantasy-comedy animated by Monty Oum, the first episode released in July 2013.
A blooper reel from Red vs. Blue got the audience warmed up before Miles and Kerry made their appearance. As soon as it finished, Miles and Kerry burst out from backstage dancing like crabs, rushing sideways up the steps, their hands snipping the air. Once on stage, Kerry jumped up and down on the seats a few times and Miles sprinted back and forth behind the table before the duo concluded their charade with a chest bump.
"It's so good to be here," Miles started. "Everyone is so nice. I was really worried about coming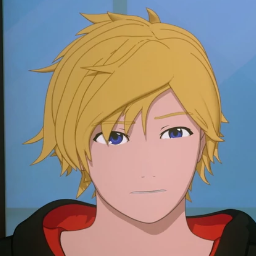 to London because I thought everyone would hate me because I'm fat and American! […] Although people have said that we sound more American in person."
"Y'all are making that up," Kerry joked.
One of the first questions posed to them asked how they felt when they had to take over Red vs. Blue from Burnie and the pressure of living up to the hype that came with such a well loved show. "We were at Burnie's watching Game of Thrones that night, he was grilling some soft wieners," Miles said, "and he just…I can't describe to you how nonchalantly he did this. He goes," Miles imitates a sizzling noise as Burnie flips over a sausage, "'So you know, you uh, wanna direct it?' And I'm standing there with a wiener in my hand like, uuuuuuh." Miles pretends to mumble through a mouthful of hotdog.
"It was really scary. I remember my biggest concern was that as soon as people found out that Burnie wasn't doing it, they would immediately write it off as bad. That's what happened with Batman Origins, because Rocksteady didn't do it. When the fourth game was announced people were like, 'It's going to be terrible.' So, we did it on the down-low for a couple of series until Burnie was like, 'Hey! By the way, this kid did it.' It was an overwhelmingly emotional thing for me, and really scary, and of course exciting. It's been a ton of fun."
Gavin Free is another member of RoosterTeeth who primarily works in the Achievement Hunter team, a web series that demonstrates how to earn achievements in various games. Born in Oxford and renowned for making dumb comments, someone asked what has been the stupidest or the most British thing Gavin has ever said. Miles and Kerry shared a stricken look as if they didn't know where to begin. "In one of my earlier Let's Plays he said, 'Don't be a doughnut,'" Miles recalled. "I just thought that was the most adorably hilarious thing. A baked good. Apparently that's an insult. A delicious one at that."
Miles voices a character in RWBY called Jaune. An audience member asked how he and Kerry would feel if there was a parody called 'Jaune of the Dead.' After peals of laughter, Miles said, "Why? Is someone working on that right now? That reminds me – when we put up the Black trailer [for RWBY], I was like, 'Can we please call it Blake's on a Train? Please?' and they were like 'No.'"
RWBY and Red vs. Blue aren't the only shows they watch online however, in their spare time Miles said he liked to watch "porn" and Kerry said "pewdipie," both at the same instance. Kerry shook his head in disappointment, hoping that Miles had caught onto the joke that 'pewdipie' was the default answer by this point in the panel. "Oddly enough, Achievement Hunter," Miles said, more serious now.
"We can't not watch them," Kerry said.
"Yeah, because they're constantly in there—their room where sound shall never escape."
"Except when they yell really loud, and then it leaks through."
"No kidding. We can hear Achievement Hunter anywhere in the building, because they're so loud their voices carry through the air conditioning system. They travel through the vents. I'm not making that shit up."
For the next half hour, the duo talked about their favourite lines from Red vs. Blue and RWBY, saying that Burnie was a huge inspiration to them as writers. They quoted lines from RWBY volume two that were in fact real life discussions between Miles and Kerry, which ended up in the show even when they thought it was a terrible idea the next morning.
One girl was permitted up on stage to stroke Miles's beard, and towards the end they showed a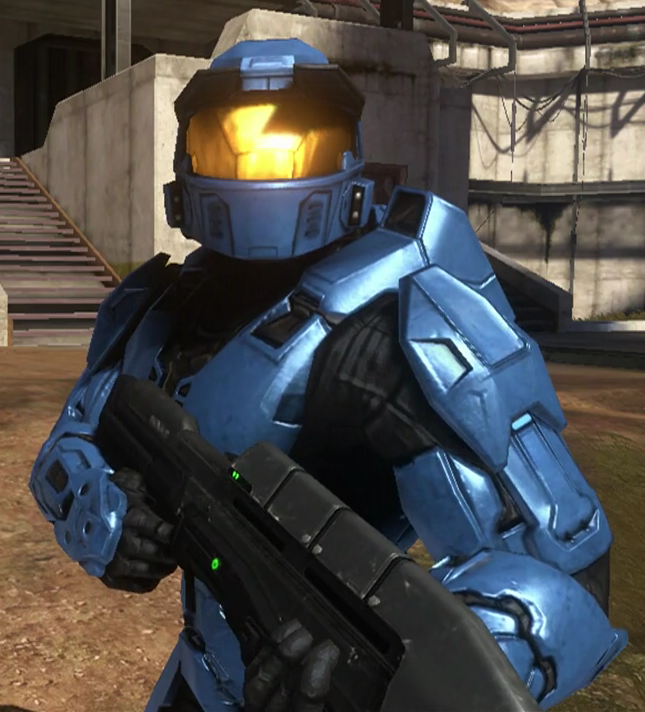 deleted scene from Red vs. Blue season twelve—or rather an alternate version of the scene where Doctor Gray interrogates a space pirate. Instead, in the alternate version, a rotation of characters took it in turn to interrogate the space pirate until Caboose succeeded by driving the prisoner insane by repeating, 'Do it. Do it. Do it.'
To wrap things up Miles filmed Kerry explaining that he was in London, before Miles turned the camera onto the audience who all screamed and cheered. The two left the stage dancing and swinging their arms around. Hopefully they'll be back again next year!